June 11: Rigatoni Garrido (collages), Ashima Srivastava (short story)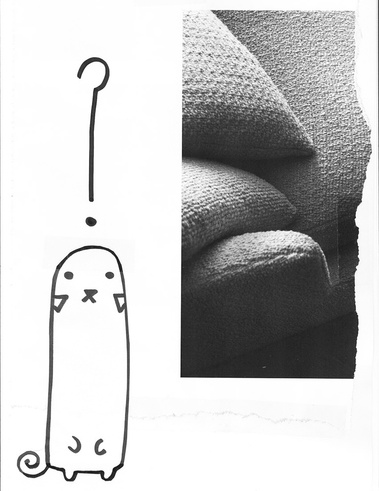 Rigatoni Garrido
I am a Venezuelan-American artist/animator who currently runs a very small business called "Pipapeep!" I typically work with digital art, but I also have a passion for making collages and paintings. I am currently working towards getting my foot into the animation industry as a potential character designer/2D animator!
Website: https://www.rigatonigarrido.com/ Instagram: @pipapeep
Confused (collage, 2020)
My First Date
by Ashima Srivastava
I was just fourteen when I went on my first date. I remember it as clearly as though it was just yesterday. We lived on the twelfth floor and the boy I had a big crush on lived on the ninth floor in the building opposite. I had a clear view into his kitchen and I would try to get a glimpse of him every opportunity I got.
I didn't think he knew I existed so you can imagine my shock when he came up to me one evening and asked if I wanted to go out for ice cream.
My friends had started to giggle and nudged me to say yes. With my heart pounding, I had quickly accepted and couldn't wait for Friday evening when we would walk down to the ice cream parlour hopefully hand in hand.
As you can imagine the rest of the week was a blur, all I could think of was what to wear and how to do my hair.
He was going to meet me at my building gate and we would then make our way to get ice creams. Should I go down before time, no that would show I am too eager? Maybe go down a few minutes late, no but what if he goes away thinking I am not coming. I would just make sure I reached the gate at 5 pm sharp.
I wore a blue dress, hoop earrings, sandals, put my hair up in a ponytail and called for the lift at 4.55. But the lift was stuck on the third floor. It wouldn't come up. I panicked and took the stairs two at a time running down twelve floors.
By the time I reached the gate, I was sweaty, wisps of hair were coming out of my ponytail, I was out of breath and panting. I didn't look like I had envisioned.
We didn't have much in common. We walked in silence, we bought our ice creams and walked back home. There was no hand-holding or even a suggestion that we should go out on a second date.
That was also the end of my crush on him and I never again looked into his kitchen seeking him out.